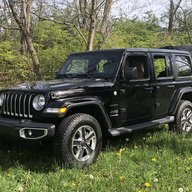 First Name

George
Joined

Apr 5, 2018
Messages
Reaction score

9
Location
Vehicle(s)

JL Sahara
OK - my 2 cents worth. I frequently have to reverse around a circular driveway in all weather conditions to facilitate various parking situations. A few years ago I backed my pickup lightly into a small tree in the pouring rain just hard enough to put a small dent in the top of the tailgate. When I purchased my first JL it did not have the LED lights and the view to the rear was improved and all was well for 3 years. I purchased my 2nd JL a couple weeks ago. It does have the expensive LED lights and the rear view is ridiculous. So I'm going to install these lights. A couple points:

I'm going to wire them into the aux switches only. Ground to the frame and run one wire to aux 4. I don't need super bright lights every time I put it in reverse. Just now and then when I can't see well.

Also, and here is where many may disagree, but this viewpoint should be stated. I'm not going to remove my bumper. I don't have the strength to do it and a shop to do the work (that I trust) is hundreds of miles away. If I can't get the reflectors out in the usual way I won't hesitate to cut them in half with a dremel tool and discard them. I also won't hesitate to use high strength double face tape. 3M make exterior grade tape that will certainly hold these in place along with the clip. I might feel differently if I had the steel bumper and no clip. Even if the tape failed, the light would not be lost since it's wires would support it. I don't expect that though.

I've found that alot of the mounting systems on the Wrangler are done and overdone. Have you ever disassembled the front grill? Jeez. Screws and clips and more clips and layers of still more clips.

If I'm able to remove and re-install the screws I will, but I'm ready to go either way. The tape will hold these little lights in place. 100% sure.