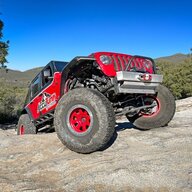 First Name

Mike
Joined

Jul 2, 2020
Messages
Reaction score

63
Location
Vehicle(s)

2018 Jeep JL Rubicon
I've noticed the same thing. The 2.0's with LSC adjustment are only listed for the rear in the JL portion of their website. I suspect this may just be an oversight - was going to shoot them an e-mail, but since we're here...

@AccuTunedJL

?
The Fox 2.0 R/R - LSC shock shown is something we offered before fox had a OEM direct fit shock for the JL and JT. They took a very long time to release shocks for the JL so we made our own. Once their shocks became available, we discontinued the Fox 2.0 R/R shocks we were converting. For some reason, Fox does not offer a 2.0 R/R with LSC for the front. Not an oversight. You can also check Fox's website for all shock options:
https://www.ridefox.com/subhome.php?m=truck&make=Jeep&model=Wrangler+JL&year=2019&position=Front
Upgrading a Fox 2.0 to have a LSC adjuster. For most shocks, yes this is an option and pretty straight forward. However, Fox and their JL specific 2.0 R/R shock... this is not currently an option. The JL shocks have a larger hose/fittings than a standard 2.0. The fitting simply is way too large and wont work. I went and snapped some photos to visually explain it a little better:
[images below] Fox 2.0 for the FRONT of a Jeep JL is the larger of the two hoses. The smaller hose is standard size for the 2.0 shocks, which is also used the the LSC shocks.