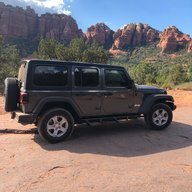 First Name

Jeff
Joined

Feb 10, 2018
Messages
Reaction score

210
Location
Vehicle(s)

2007 07 Honda S2000, 2018 JLU Sport O)|||||(O
I tired myself out trying to determine if I had the death wobble. I live in Phoenix and never had an issue until I took the family up to northern AZ right after Christmas 2019 where the temperature rapidly fell. Any time I hit a rough patch of road or surface transition with the speed above 60 the front end would wobble out of control until I reduceD my speed to about 45 mph. It was a white knuckle drive for about 5 hours. Once I returned to my the warmer climate of Phoenix I never had an issue until it was raining and cold out one night. I left work and headed out to Ikea. This was my second maddening and terrifying episode of what I feared was the death wobble. Any small blemish in the road caused my brand new JL to uncontrollably wobble, bounce, shimmy and shake.

Hours of research, reaching out to multiple Jeep shops and nobody could give me any sort of definitive answer.

On the day my steering dampener recall arrived it all became clear. It said something to the effect of, when the temp drop below "x" you may experience this. I'd never correlated the cold weather with the issue but looking back that's exactly when it happened. I quickly had it replaced and I have not had one single issue through this winter, driving in the cold weather that previously gave me nightmares.

Based on my experience, I'd say get it done.