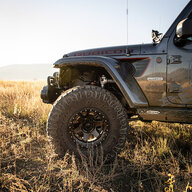 Well-Known Member
Rock Sponsor (Level 1)
First Name

Steven
Joined

Feb 11, 2020
Messages
Reaction score

951
Location
Website
Vehicle(s)

2020 Wrangler Recon
Build Thread
Occupation

Photographer/ Content Creator
Okay, I am in the middle of this install on a steel bumper. I chose to take the bumper apart previously since I was considering the rigid lights so I got to play around with the best install. Here is what I believe would be the easiest install...

1. Remove bumper.

2. Remove license plate trim. Just a few plastic tabs.

3. Remove 7mm screw on the inside of the bumper holding in the reflectors.

4. Remove the plastic tab on that same bracket holding in the reflectors.

5. Steps 3 & 4 will allow you to pop off the bracket enough to remove the reflectors from inside the bumper.

6. Feed wiring through hole and install Oracle lights the same way you removed the reflectors. Note removing the license plate trim gives good access to the driver's side now.

7. Reinstall bracket, reinstall screw, and reinstall the tab.

8. Reinstall license plate trim.

9. Reinstall bumper.

Steps 2-8 took 30 to 40 minutes.

Now I still have connect everything but I didn't have to trim or modify the lights (or bumper). Like everyone has noted the driver's side light wouldn't fit from the outside of the bumper without modifications.
Nice solution!
-Steven