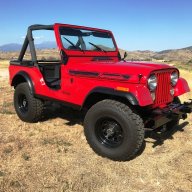 First Name

Jeff
Joined

Feb 6, 2021
Messages
Reaction score

304
Location
Vehicle(s)

'21 2-Door JL Sport, '80 CJ-5, former '99 TJ
Vehicle Showcase
No one with etorque has actually looked under the fuse box to see if it's just empty space or if they used the space to put something else related to eTorque, but as the poster after you said, we can guarantee you will not find a small auxiliary battery there, or the eTorque battery for that matter, because the eTorque Lithium battery is next to the gas tank on the drivers side and it has its own liquid cooling and skid plate.

Here is a schematic of where the battery is located, the battery being number 3, with #1 being the Motor/Generator Unit and #2 being the orange 48v positive and negative cables going between the PPU and the MGU:

Here is a photo of it under the jeep:

Here is the battery (called a Power Pack Unit) out of the Jeep:

The PPU includes a 3kW DC to DC converter used to power all accessories during a Start/Stop event and to charge the conventional Lead Acid battery whenever the engine is running.

And finally, here is a photo of the undercarriage of a Jeep without eTorque, where you can see the empty space beside the gas tank where Jeep engineers chose to place the PPU on eTorque Jeeps:

I hope this helps!

All images taken from EBay and Google Images.
Unfortunately, my Jeep hasn't arrived yet, or I would have just looked at it myself, but the pics are extremely helpful. Much appreciated.