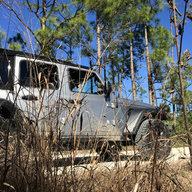 First Name

Jon
Joined

Jun 23, 2018
Messages
Reaction score

25
Location
Vehicle(s)

2018 JLU Sport S
[/QUOTE]
So it seems, at least in this rust belt climate, the bubbling is likely to be inevitable. Which is ok when under warranty in terms of cost (having to have repainting done of any sort on the exterior doesn't thrill me) but if it is also inevitable that it will return the cost of repair won't be cheap post warranty.
[/QUOTE]

I've not had a return of the issue, but it has literally only been weeks since the last fix (in twice, so far). But, I can also say that in my case, it came fast! Scary fast.

One day I washed the Jeep—no corrosion issues... and just a few weeks later, I had a fully involved door panel (inches away from the closest hinge on the flat part of the door) and several hinges showing a lot of bubbling. After those were fixed in June, the hinges on the previously painted door (which were not an issue the last time) were corroding under the paint, as well as a few others on both sides.

I live in West Palm Beach, Florida (car is from here too) and is garage kept at home & at work. The doors have lived half of their life hanging on the garage wall. I used to live in Buffalo, so I understand the potential issues in that part of the world as well, but this Jeep has never been there. The paint shop dude at FCA said "down here in Florida, the sun is hot—it's not so much rust as water trying to escape when it gets cooked". I smiled and let them get to work painting.

I feel very lucky that I'm leasing, given the potential for this to continue. Just hit 30k miles, I had planned to buy the car out afterwards, but that seems highly doubtful now. It's a fun ride for sure, but I've had more than my share of issues.

No need to flame me, peeps—I'm not a hater, and love my Wrangler. Just passing along my experience with a 2018 JLU. I hope it all gets squared away appropriately—and that my story fits within the minority of ownership experiences.

I'll also add that a friend of mine bought the same model weeks after I did... he loved my ride. Last I spoke with him (a week ago), he still had no bubbling paint issues. That's good news!