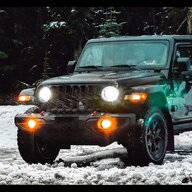 Joined

Nov 28, 2019
Messages
Reaction score

288
Location
Vehicle(s)

JLUR Benz Porsche Subie +
I wish I could convince you it's a great design but FCA dropped the ball on this design using it on a Jeep Wrangler.

If your Jeep sits a lot it's best to put it on a tender/maintainer that is sized correctly for the stock batteries so like a 5 amp NOCO but in all honesty I believe you could use a 10 amp NOCO as when the Jeep is idle the batteries are connected as one so it's just one big battery but that smaller motorcycle ESS battery is just sad as it's not sized the same in amp hours as the 700 aH full size battery plus I honestly don't believe the batteries that are used are of acceptable quality.

There are ways around bypassing the baby battery and just maintaining it for backup purposes but as we all know batteries start to degrade from day one and regardless of what batteries are used they all have a life cycle but some have shorter lives than others based on their design and quality of construction.

You as a Jeep owner have to decide what your needs are and go from there but the choices are pretty simple

1. Maintain the original design and just be diligent on maintaining the factory batteries

2. Bypass the aux battery and DON'T USE ESS but still maintain them.

3. Go to some type of better dual battery system ( There are a few choices )

Regardless of what battery system you go with if your Jeep is not driven a lot use a quality maintainer to keep the batteries at peak so you get the maximum life from them.
Yep.
Since our Jeep is only used intermittently - we charge the aux with a NOCO5 and the main with a NOCO7200. This way both dissimilar sized batteries are smart maintained optimally and de-sulphated separately using the Repair mode. Dealer has load tested and both 2018 OEM batteries are fine and holding a proper charge. We never have a ESS problem. Each battery holds a different voltage when measured with a multimeter - which is expected.
As posted before - more than likely Stellantis put in dissimilar sized batteries to simply cut costs - and it seems hooking them up in parallel has created a battery lifespan problem. Generally dissimilar batteries should never be connected in parallel - and charged up together. Since one will drain the other and then die prematurely. Just is not a good idea and is a piss poor Jeep design.
For those concerned of a dead aux creating a non-start problem - test yours by disconnecting your aux neg lead. Your Jeep should not start on the first press - then start on the second press with a ESS disabled dash message and icon popping up. Ask your dealer to flash the necessary bypass code to enable this. Otherwise a dead aux might leave you stranded without a bypass.
We have 2 CTEK and 4 NOCO smart chargers with multiple batteries hooked up 24/7. All batteries are fine and engines always start first crank - even after sitting idle for months at a time over winter. Keeping batteries properly smart charged and de-sulphated is definitely key to maximizing our battery lifespans. PITA to separate on the Jeep - but it is what it is.
In reality - Jeep should have just designed something like the Genesis using 2 identical full size batteries with easy access.