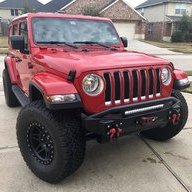 First Name

Will
Joined

May 8, 2018
Messages
Reaction score

2,509
Location
Vehicle(s)

2018 Wrangler JLU Sahara
Occupation

Gas Pipeliner
Vehicle Showcase
I occasionally put my Jeep on a tender. The Start/Stop may work for a day or two. Then it dies again.

I have had the AUX battery replaced once. I will have the dealer look at it again when I take it in for its annual check up.

I write this off to a bad design that is prone to fail. Please change my mind!
I wish I could convince you it's a great design but FCA dropped the ball on this design using it on a Jeep Wrangler.
If your Jeep sits a lot it's best to put it on a tender/maintainer that is sized correctly for the stock batteries so like a 5 amp NOCO but in all honesty I believe you could use a 10 amp NOCO as when the Jeep is idle the batteries are connected as one so it's just one big battery but that smaller motorcycle ESS battery is just sad as it's not sized the same in amp hours as the 70 aH full size battery plus I honestly don't believe the batteries that are used are of acceptable quality.
There are ways around bypassing the baby battery and just maintaining it for backup purposes but as we all know batteries start to degrade from day one and regardless of what batteries are used they all have a life cycle but some have shorter lives than others based on their design and quality of construction.
You as a Jeep owner have to decide what your needs are and go from there but the choices are pretty simple
1. Maintain the original design and just be diligent on maintaining the factory batteries
2. Bypass the aux battery and DON'T USE ESS but still maintain them.
3. Go to some type of better dual battery system ( There are a few choices )
Regardless of what battery system you go with if your Jeep is not driven a lot use a quality maintainer to keep the batteries at peak so you get the maximum life from them.
Last edited: