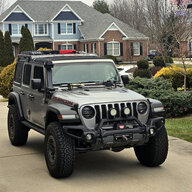 Joined

Oct 25, 2018
Messages
Reaction score

1,595
Location
Vehicle(s)

2018 JLUR
Occupation

Weekend keyboard mechanic and beer drinker
Vehicle Showcase
Hey plex....My damper is too date coded X208 and Jeep was built on Sept 1st with 3300 highway miles on it currently. I get steering wobble after hitting bridge expansion joints at 55mph+. Especially after 1 wheel hits it, like on a curve. Dampens out after a few seconds. I am going to continue to monitor and see if it gets worse. If so, I am taking to dealer with STAR case to have replaced. I may remove it myself and check proper function too.
Hi Brewtus8, I am sorry to hear your wobble situation. So far I only have about 600 miles on a bone stock Rubicon, so I have to wait for my turn. My couple of thoughts to share with you.
(1) I think the date codes reset after they reach certain number, so the original 257 came from X257L, while you and mine are X208M. I think the last character is also part of the date code. That is why many people said their Jeep built much earlier but have numbers larger than 257, maybe their last character is K or something prior to L. Still, your steering damper can be worn out despite the batch. Did you lift your jeep or make any changes to the suspension?
(2) I would suggest you go to dealer as earlier as possible, rather than wait for more serious wobble. Because every time you have wobble, the damper cannot effectively offset the impact on other steering components, it may bring down (or at least reduce the life) of your track bar, ball joint, etc. Or you can spend $100~$200 to get those aftermarket dampers. They are readily available and do not need to wait for in stock.
My 2 cents but keep me posted, buddy.