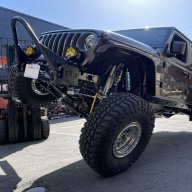 First Name

Ross
Joined

Aug 20, 2020
Messages
Reaction score

581
Location
Vehicle(s)

2021 JL Unlimited Rubicon Diesel
Occupation

Bad Mother Fucker
Hey all,
Here's the lowdown.
Looks like this dipstick only measures the first quart of oil.
Dealer called it a "short stick" style dip stick. Designed to know when the engine starts to lose oil, so it gets topped off or comes in for service.

In essence, it wasn't dry, but it was too high in the pan to measure the last quart of oil. The topped it off, and they did a compression test. No problems were noticed.

Apparently FCA expects diesels to drain between 1-2 quarts over the course of one oil change. More is normal during the break-in period. If it was more than 1q in 2k miles, then it is a concern (leak test check).

I'm advised to ask them to measure the drained oil every oil change so we can all be sure it's not losing more than expecting.

Anyone else seeing oil usage that high?

I'm honestly glad it didn't end up in the coolant or in the combustion chamber. Fingers crossed that this isn't a real issue and I'm just breaking in here...
Good to know I did a very hard break in on mine. Just checked oil the other day and was at 3/4 down between full and empty.
This translates to about 3/4qt of oil. Added just under that as to not overfill and it was right where it was supposed to be. So mine ate about 3/4qt in the first 2,500 miles with a hard break in.
Oh and I was going to say. The dipstick doesn't measure much past being 1qt low. So if you're 1.5-2qts low or more the dipstick will probably be dry.
Kind of a bummer on that one. Too bad they don't have a better dipstick...