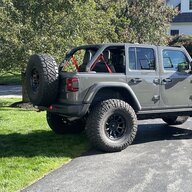 First Name

John
Joined

Jun 22, 2020
Messages
Reaction score

67
Location
Vehicle(s)

2016 Audi S4, 2020 Honda Pilot Touring
Hey John..yeah, my guess would be that your Carista isn't or may not be, or is unknown as to being compatble with the Jscan app.

Clearly you may have more accurate 411 than me, but what I can say is that I derive these conclusions from the absence of the Carista here:

jscan.net/supported-and-not-supported-obd-adapters/

You may also contact the Jscan developer on Facebook.

https://www.facebook.com/obdjscan

I acquired the Jscan device to add proximity locks and he was super responsive. In fairness though, people say the same good things about Joe at Z Automotive--the Tazer's parent company.

Please note, if you don't already know, that you will need a "12+8 cable" to interface the ports under the dash, on the left side of the steering wheel, with whatever ODB II device you end up with.

Here is a link to the one I have--by no means the only one out there---in fact I think it's also sold at the prior link I provided:

https://www.amazon.com/gp/product/B082PTBZ6K/ref=ppx_yo_dt_b_search_asin_title?ie=UTF8&psc=1

As for functionality, I see here

http://jscan.net/faq/

that tire size changes are supported, but I'm not sure on TPMS thresholds or splash screen changes. Again, best to reach out to the developer or perhaps others here will chime in with more definitive answers.

What I can see from here

https://www.zautomotive.com/product/tazer-jl-mini/

though is that the Tazer Mini seems to support all the functions you wish.

One more thing, regardless of which product route you take, I personally found this cable worth the money.

https://www.zautomotive.com/product/sgw-extension-cable/

You can get it cheaper directly from the Chinese manufacturer (links upon request) but expect it to take longer to receive.

This cable isn't required, it's just a glorified "extension cord." that makes plugging in either your ODB II device or the Tazer Mini easier. The ports the FCA provides are difficult to get to, and make it difficult to remove the existing cables temporarily. The extension cord allows you to do it only once...it's like that electrical outlet at home that you need access to, empty on one of its two outlets, behind the kitchen refrigerator. You don't have to move the refrigerator, but the worth of this extension cord IMHO decreases the less you access these ports.

Since you'll have to remove those two cables at least once, the technique that I've found works is to press the release level on each cable, pull the cable gently a little bit (it probably won't release) then let go of the release lever and grab the cable end on both sides and pull straight down.

Not throwing out my back is worth $30 to me.
Thanks for the super detailed response! So I went ahead earlier after reading and ordered a new obd2 adapter that was listed on JScan's site as supported and I ordered the security bypass. I checked the app out and did "demo" mode and it does show the ability do everything I asked for. If it is too hard for me to reach I'll order that other extension. Thanks!!
Last edited: