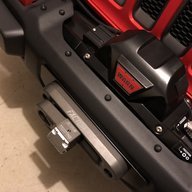 First Name

Gene
Joined

Mar 2, 2018
Messages
Reaction score

553
Location
Vehicle(s)

JLUR - Firecracker Red
Mine and the wife steering is loose I have to take it to the Dealer to see what they say.

Here is a video I did from the other day on the highway doing 70. If i would of did this in my stock 2016 JKU i would of been in the ditch.


Curious as to what the dealer said if you've been able to take it in.
Took my Jeep out today on the highway after not driving it for a week. I tried the same thing as in the video and was able to recreate it, but my Jeep did react ever so slightly to the left and the right...not enough to have a cop think I'm DUI, but enough to move the Jeep.
So instead what I did was to see how much I could move the steering wheel before I felt any sort of resistance which to me meant the wheels were getting input. In this case I was only able to move the steering wheel 1/4-1/2 inch in either direction giving me a range of 1/2-1" of play/dead zone.
My question to you would be can you do the same thing and report back the same. I can see you can move the wheel 2" in each direction, but that doesn't mean the wheels aren't reacting, they just tend to not react as quick or sharp enough as say an SUV would.
Thx