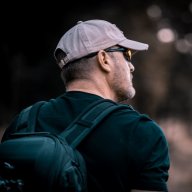 First Name

Ron
Joined

Dec 28, 2020
Messages
Reaction score

70
Location
Vehicle(s)

2021 JLU Sahara 4xe
I assumed it was all 4xe that get the blue treatment, but I'm not sure. I don't think making the 4xe blue is any different than making the Rubicon red though. Just my opinion here, but I don't like the red all over the Rubicon. As you mentioned, I understand wanting to make a recognizable element, and some people buy specifically for that sort of thing.
As for me. I really dislike the red panel on the dash and I could do without the red stitching. Just my opinion though, I know some people love it.
Yeah, all those treatments come down to preference in the end. I like blue and red, so I'm down for either (though, like you, I'm not a fan of the "in your face" red dash pieces. And I also like the lower amount of red stitching you get in the Rubicon with cloth which is only the seats that get it, nothing else).
I'm basing a lot of my conjecture on various tidbits I can find strung about the web, as there's nothing that blatantly details what's what - for instance, I noted the interior differences from this page:
https://wrangler4xe-grandwagoneer.com/w4xe/
You can see the two sets of interior images, one definitely being the Rubicon, and the other being probably the Sahara.
And actually if you read the press release on that page above, it looks like the Rubicon is the only model that get's most of the blue:
"Exclusive content identifies the Jeep Wrangler 4xe as the most technologically advanced Wrangler ever. New Electric Blue coloring on the front and rear Rubicon tow hooks stands out against the black bumpers. The unique blue coloring also traces the Rubicon name on the hood, Jeep badge and the Trail Rated badge. Select Easter egg design cues also receive the Electric Blue shade. The black hood decal is outlined in the special color with "4xe" that lets the body color show through."
It makes it sound like the Rubicon is the only one that get's blue tow hooks (which the build sheet clarifies), and might even be the only one that get's the blue Jeep logo and Trail rated badge now that I read that again. And that way it's worded it's hard to tell if they all get the hood decal.
It also states: "Inside, the Wrangler 4xe Rubicon includes unique Electric Blue stitching on the seats and trim ", while also stating that the leather can come in black and saddle - so makes it sound like the blue stitching is in both color seats.
Wish there was more details available.