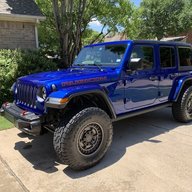 First Name

Jerry
Joined

Jan 18, 2019
Messages
Reaction score

527
Location
Vehicle(s)

2020 JLRU Ocean Blue
I never have and never will understand the "manual sucks in traffic" argument.
I guess it's all relative to how much traffic you are stuck in and maybe how much you love your manual transmission. For some, 10 minutes of stop and go is "heavy traffic". Around the Dallas area, you may be working your clutch several hundred times when you're stuck in traffic that just inches along for an hour or so. Most would agree THAT is not fun.
I have always loved a manual and being in control of what gear my transmission is in and being able to downshift for curves, etc. But, my 4 door Wrangler is quite a bit larger and different than my previous daily driver... a 2016 Mini Cooper S with a manual and on it's 4th set of tires at 40K miles.

For me, with my JLRU, I opted for the 8 spd. auto and love it, but I do miss my manual sometimes.