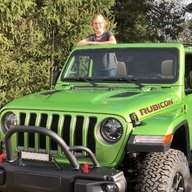 First Name

-O)|||||(O-Jack
Joined

Aug 9, 2018
Messages
Reaction score

334
Location
Vehicle(s)

2018 Rubicon JL 2 Door
Vehicle Showcase
Let it be said there is no one answer that fits everybody and all conditions, but I'm probably preaching to the choir. I see many folks using the tow light option - I'm just too OCD for it! There are other reasonable options along with strong opinions for towing gear on this forum, all good intentions I believe. As with any mod, we all choose for ourselves after digesting waaaaaaay too much information, then diving in! I started from scratch on this same topic and have many forum users to thank.

Yes, I run stock 33's and it's about 19" from level ground to centerline of the upper / forward tow loop hole. I had to add a 4" drop receiver on my class C (WBGO View) to get them to align within specs. I also used locking hitch pins with matching keys for the receiver mount to ward off casual knuckleheads that might want to ruin my trip.
Thanks, Al... your research is well share with us coming behind you knowledge. I'm lucky to tow my JLR 2 or 3 times a year at max and mostly locally or going to the shop for service. It is good to be OCD and my last hookup with my TJ it was wired in. Used it 4 times in 4 years.
Thanks again for your comments.