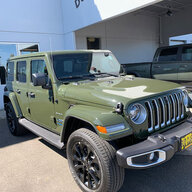 First Name

Dan
Joined

Apr 26, 2021
Threads
Messages
Reaction score

106
Location
Vehicle(s)

2021 Sahara 4xe >-- Bluebird Wanderlodge PT-38
I just installed an RViBrake 3 unit, and am extremely pleased with it. One thing: I had to use the "Active" (rather than "Vacuum") braking setting, to avoid the unit pushing too hard on the brakes and locking up the wheels. The instruction video mentioned that "any hybrid needs the 'active' setting" (paraphrasing).
The unit fits like a glove, and since I also installed the wireless breakaway system, no holes in the floor or firewall needed (not that holes are a big deal).
I went with Maximus-3 Tow Loops, a Curt wiring harness, and RViBrake 3 with wireless breakaway. The hardest part was figuring out where to mount the breakaway and the wiring harness socket for a clean look.
View from the business end
Breakaway
Wiring harness socket (sorry about hole-saw wound)
Wireless breakaway velcro'd to battery
Hooked up and ready to go
Anything special needed for braking while towing or will any supplemental braking systems that works for other wranglers work on the 4xe?
Last edited: