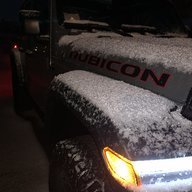 First Name

Michael
Joined

Mar 26, 2018
Messages
Reaction score

52
Location
Vehicle(s)

JLU Rubicon
Occupation

Railroader
Vehicle Showcase
Brad41,

@Maximus-3

, or anyone else. I finally have the time to install the X20 with the Maximus-3 plate this upcoming weekend. Its nerve racking have the parts, but not a free day to get it all done. I have been going through all the instructions (doing a couple other installs this weekend too) and I have 1 question.

What about the Skid plate? When you add the Maximus-3 plate, you add a couple spacers in front of the frame. Will the push out of the bumper give you any troubles reattaching the skid plate? Not sure if there is "play" in the skid plate, or will I need to drill out the holes a bit larger?

Just making sure I am good to go here. Thanks for the help.
I just installed my winch with the Maximus plate Saturday night. I ran into fitment issues, at no fault to their product. There's a mount that is welded ~ 3/8 lower on the pass side then the driver side. I had to cut away at the plate to make it work. Came out good tho. Had to fool around making a bracket for the Warn interrupt kit so this took a bit longer than expected.