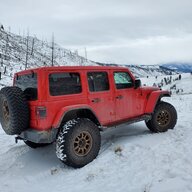 First Name

Roy
Joined

Nov 12, 2019
Messages
Reaction score

698
Location
Vehicle(s)

2020 JLUR 3.0 Diesel (FIRECRACKER RED), 2020 6.7L F350, 2011 QX56, 2005 5.9 Cummins
I've got 3 dealers telling me they can make an order and 2 telling me they can't......
Orders for which? Dealer stock or a sold order?
2 of the quotes say Sold Order. 1 doesn't specify. And then the other 2 dealers tell me they "can't build it in the system".

Neither my wife nor I have ordered a vehicle before, so it's all new to us.
It still blows my mind that the explanations differ from each dealership on orders but from what I hear, there are real differences in restrictions between dealers even in close proximity.

When I was shopping dealers I had two with issues adding the tube step, one of which said they were forced to add the all weather mats. Meanwhile 6+ other dealers had no issues with placing my exact order.
*6 hour drive with dealer financing 6.5% below FWP (I have no desire to be on the hook for a terrible interest rate)
*4 hour drive with my own financing 6% below FWP but higher tax rate in a different county. These people still haven't sent an actual quote yet either for some reason.
*Local dealer 15 minutes away 3% below FWP but all of a sudden he is telling us he can't make the order until Friday or Monday because the "chrysler system is down/closed"?
*Other local dealer still tells me they can't make an order for a diesel at all?
*Dave Smith doesn't really seem to want to deal FWP minus 500 bucks or so.
We were all set to order from the local dealer and not worry about getting the best deal for the convenience of it. But now I kinda think this guy might be jerking us around. Isn't it all automated? He is just pressing buttons and sending something through the computer correct? His title is sales desk manager, but I am wondering if he is pretty much just a regular old salesman, and that is why he can't get the Jeep ordered for another 5 days or so?
Am I overthinking it or what? Does it sound right that he can take our deposit, but he can't get the order going for possibly near a week?