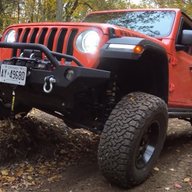 First Name

Michael
Joined

May 12, 2020
Messages
Reaction score

218
Location
Vehicle(s)

2019 Jeep Wrangler Unlimited Rubicon
Occupation

GM, P.Log, CITT, 310T
Am I being OCD or would this bother you guys also?
I would put it down to being a bit OCD ... not that there's anything wrong with that.
People's expectations of what comes off an automobile assembly line any more is a bit on the high side.
The 40k you paid for your Jeep is almost what I pay in taxes on the class 8 equipment I buy. I buy often, and I run into the same thing you do, and worse.
There is no effective QC at any auto factory for anything other than the blatantly obvious. No one is looking into nooks and crannies for fit and finish.
Dealers will tell you they do a PDI. They don't. They forget things like greasing a clutch, checking wheel bearing oil levels, loose nuts and bolts, and so on. Hell, I've even had it where they "forgot" to take the plastic off the hood. You have to do your own comprehensive PDI.
Will they replace a badly seemed plastic piece? It's highly unlikely unless you have an above average relationship with your dealer principle.
Lastly, keep in mind that FCA did not build that piece. They put out a spec for it, and the lowest cost provider got the contract to supply that piece. The highest quality for the lowest cost does not mean you get the best piece. It means you got the cheapest piece with a tolerable percentage of flaws.
Just so you know where you and I, and every other Jeep owner/buyer, stand in the grand scheme of things ... Corporations do not build cars for us. They build cars for acceptable profit. They do not answer to the consumer. They answer to shareholders.
I suspect many reading this will think "I just won't buy a Jeep until quality improves.", and that is a valid reaction. One of two things will happen. Quality will improve significantly, but the consumer will pay extra for it, or they will simply stop building them if the business model becomes unacceptable to the shareholders. Whether or not it is unprofitable at that point is immaterial.
I get it that everyone wants an absolutely perfect vehicle for the hard earned money they spend. Even better than perfect means you got a deal. But, if we're honest, perfect is rare, and better than perfect is exceptionally rare. Flawed has become, for better or worse, the acceptable norm.
If you, or anyone, dares, delve into the world of statisticians and actuaries. It becomes painfully obvious why consumers buy what they buy, even if they complain a lot about it.
Someone earlier had said " FCA quality control.... = Jumbo shrimp, plastic glass, Military intelligence...etc." You can add "Jeep Cares", "Ford Cares", "GM Cares", etc., etc., etc. to that list.
Just my humble 2 cent rant for a Sunday afternoon