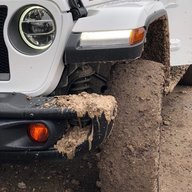 First Name

David
Joined

Jan 29, 2019
Messages
Reaction score

3,411
Location
Vehicle(s)

2020 JLUR 3.6L
I normally drive with ESS button OFF.

i normally see above 14 all the time.

i drove about 1000 miles from Houston to Denver straight through (Stopping only for gas) in May. Before leaving I had the dealer check the craptastic ESS System/batteries and all was good. When I left, it was at 14.x. ...... When I arrived the voltage was at 12.5-ish. Within a Few days, it was back to 14.x

i recently took a drive to Ouray from Denver about 5.5 hours Spent 3 days on the trail driving another 8 hours per day. Then drove back to Denver. 12.5 -ish when I got back. And then within a couple of days back to 14.x-ish

i recently drove About 5 hours round trip without turning the Jeep off. When I checked again back home, it was 12.9.

is this normal? With a craptastic stock battery coupled with an equally craptastic ESS deployment, Who knows?