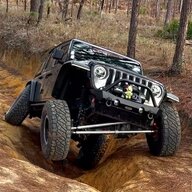 First Name

Roky
Joined

Oct 4, 2018
Messages
Reaction score

14,529
Location
Vehicle(s)

2018 JLUR
Build Thread
Vehicle Showcase
I bought my JLUR as a retirement gift to myself. I had about 6 grand in stuff waiting in the garage before I even ordered the JLUR. The 37 were mounted on beadlocks five or six months before the Jeep was ordered. Retirement does not need to be off the table.

When I think of build, I think of the average Joe dreaming about how cool his or her jeep is as they wrench on it in the garage. Like they say in drag racing. Speed = cubic dollars. The more money you have the faster you go. Jeeping is the same way. You want an awesome built Jeep like say the Step Child, It just take dollars, 40, to 50 grand for a Hemi upgrade, Hey you want big axles, throw another 15 to 20 grand at it, Hey want a bad ass suspension, Throw another 10 or so grand at it. Built...bought it is all money. Even if you possess the skills to weld, fabricate, and design, 90% of your stuff will still be bought before you do your thing. Why because of money. I live in a town that has Auto manufacturing plants and a shit load of supplies to GM. I have friends that are engineers, can fabricate and have the tools to do so in their shop. So I ask, hey how much would you charge to make this front bumper that I would like. He looks at me like I am stupid and said you cn buy that for under five hundred dollars, for me to buy the steel, and welding supplies plus my time, then get it powder coated. you would be well over a thousand.

So I did what just about everyone does, hey Roam, hey LOD, hey Smittybilt, send me a bumper...... I built my JLUR up with the help of Giants like Jeep, Roam Off Road, ACE Engineering, and Rancho. Tell me I am wrong and it will fall on deaf ears as you waste your breath forming words. LOL.
I agree with you on most of it... however when we were kids, it wasn't that literal, we didn't mean we manufactured the Jeep. We were more hands on, bought our axles, engines, bumpers, etc..... from bone yards, or had it made or made it and installed it. Where we lived it was more, us poor kids against the silver spooners that would buy the most expensive Jeep, take it to a 4x4 shop and have it built. That's more what I'm talking about....... but hey, everybody views the world differently, that's what makes it great. How freakin boring would it be if everyone agreed with everyone......