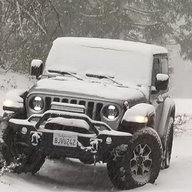 First Name

Cosmo
Joined

Apr 30, 2019
Messages
Reaction score

325
Location
Vehicle(s)

2019 JL Wrangler
All,
I have posted on the other thread as well about steering feels loose and wanders. If you are having loose steering issues to to the website:

www-odi.nhtsa.dot.gov (National Highway Traffic Safety Administration) and file a complaint.

You will need your VIN number and any other documents you would want to provide them as you can upload documents. If may take a little while but they will get backe to you. I feel Jeep has been skirting this issue for far to long with their BS. If enough people file compaints we may get some help in pressuring Jeep to fix what appears to be a pretty well documented issue.
You would think the 316 PAGES of complaints on this one - of many - forum threads would be proof enough that there is an issue:
https://www.jlwranglerforums.com/fo...els-like-it-has-play-and-drifts.3691/page-316