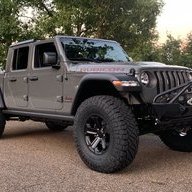 First Name

Zac
Joined

Sep 11, 2017
Messages
Reaction score

276
Location
Vehicle(s)

'20 JT
Is anybody confident that there won't be any long term issues with having a fad electronically disconnected? I understand there is a fork that slides a collar back and forth. Just a little concerned if it might move around if "disconnected". No idea if there is a real reason for concern.

I use the tazer now, but it is pretty cumbersome. It would be cool if I could use one of the aux switches.
It's got a spring which holds the fork in the open position when not engaged. It uses an electromagnetic field when engaged to override the spring and lock the collar. There's a FAD wiring harness on eBay for $36 if someone wants to try that. I'm tempted, but I don't have a Tazer...