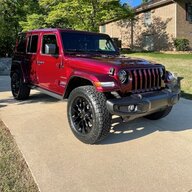 First Name

Tony
Joined

Jan 3, 2021
Messages
Reaction score

94
Location
Vehicle(s)

2021 Jeep Wrangler Sahara 4Xe
Watch the following

These will help tremendously.

I used a three step process.

Applicator 2 Coats 5 min in-between coats

High Gloss Trim Paint 3 coats 5 Min in-between coats

Wait 30 mins after last Paint coat then start Clear Coat Process

Clear Coat 4 coats 10 min in-between coats.

I'll post the brands I used. I went to my local automotive paint store and he pointed me in the right direction. Materials cost about $50. Maybe a little overkill but I bought the best quality stuff he had. Turned out great I think.

Most difficult part is getting the inserts off the grille. It goes together much easier than taking it apart. My wife and I did it all in one night. Let everything dry overnight and put it back together the next morning. I also bought a plastic trim remover kit (Cheap at harbor freight) which really helped when removing the fog light bezels. Hope this helps. Let me know if you have any questions.