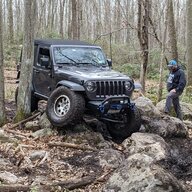 First Name

George
Joined

Aug 2, 2018
Messages
Reaction score

559
Location
Vehicle(s)

2018 Wrangler JL Sport
Vehicle Showcase
Not my experience at all. With a JLU sport, 3.43 auto. I installed the Mopar 2" and 33" 285/70R17 with Gearhead Big block rims.
8th is a thing of the past and gas mileage went from 25 to 15ish. Speedo is off -2 mph compared to gps app.
Seriously, you have some issues. You are comparing 25 MPG INSTANT reading on a flat highway in stock trim to your AVERAGE of an uncorrected 15 MPH with winter mix fuel (which sucks the life out of fuel economy) and blaming it all on the lift and tires (and blaming such a mild lift for most of the MPG drop isn't realistic either). Then post over and over how bad an idea it was. MPG arguments are so stupid in the first place I never get involved in them but had to speak up as I did almost the same swap and it had a minimal impact. But as there are so many variables when it comes to MPG I would never tell someone they will get the same results as me, maybe you shouldn't either.