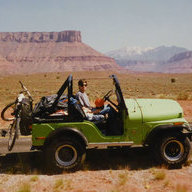 Joined

Jun 30, 2016
Messages
Reaction score

376
Location
Vehicle(s)

1998 Jeep TJ, 1985 Jeep CJ-7, 1972 Series III Land Rover
Occupation

Procrastinator
Also if there are incentives (on a brand new 2018 there probably wont be any) you get them on top of the 1% below invoice. The Tread Lightly program is awesome for those that want a fast deal and not have to pay mark ups. When I bought my JKU I negotiated $1,500 below invoice with the Tread Lightly program. The dealership I was dealing with was willing to give me a bigger discount below invoice because I had the code. You can still negotiate on top of the discount. You could always go in an negotiate a price and then once they hit the max lowest price then tell them you have the affiliate code to bring it down more.
So any dealer or corporate incentives are automatically included in the calculated price with Tread Lightly program, and you don't have to worry about researching if the vehicle has any of those incentives? For example, if a vehicle has $1000 kickback from corporate and $500 dealer incentive, that $1500 amount will be automatically subtracted from the invoice price? (customerPrice = (invoicePrice - dealerIncentive - corporateIncentive) * .99) That how it works?
Also what about all the various fees and charges some dealerships add? I wonder how to weed through those and decide which are legit. For example, I don't buy a TV from Best Buy and find out at the checkout counter, that I will be charged an extra $20 "destination fee" for the TV. How are people dealing with that aspect of the purchase?