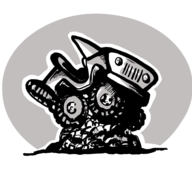 Joined

Apr 18, 2017
Threads
Messages
Reaction score

7,950
Location
Website
Vehicle(s)

2021 JLU Rubicon, 2017 Chevy Tahoe
Build Thread
I have been a member on this site for a few years and I finally got some of my designs together and launched a new site. T-shirts and sweatshirts for now. These are original Jeep-oriented designs.
Forum members can use
JLWF10
at checkout to receive 10% off.
Check it out at
www.JeepDoodles.com
- Right now it is US only. I will be adding Canada and other locations soon.
- I am partnering with
@pixeldecals
to produce decals.
- Fulfillment times may be extended due to Coronavirus.
- I do custom work so PM me if you are interested. I am a freelance illustrator and cartoonist and very experienced working with clients to create original designs.
- I decided to start with a few core designs. I will be adding new designs regularly. I will add them to this thread and you can follow me on Instagram or Facebook to be notified when new designs come out.
A portion of the proceeds from each sale will go to mods for my Jeep.
Keep those ideas coming! I really enjoy hearing new ideas and I am adding some of them to my list for future designs.
A few clarifications:
- Once you post an idea on the forums I will treat it as a public idea. I may use it or not but there will be no compensation for the person that originated the idea. If you want to protect the idea PM me.
- Even if I like your idea, it probably won't get made into a design for some time. I have well over 150 ideas on my list already and I am working on several designs at a time. If you really want to see your idea made, you should PM me and we can discuss a custom order.
- For custom orders you have to commit to buying a product with the design and there will be a price premium. The amount of the premium depends on whether I can re-purpose existing art and whether I think the idea has broad enough appeal to sell the design on my store. I will give you a firm quote on the price premium for the custom work up front.
- Custom orders don't have to be new ideas. If you like a design but would like the color to match your Jeep, a different caption, change the top to a soft top, etc just PM me. I can make those types of changes as well.
Just Added
New design added today
Here are the original designs up on the store right now:
View attachment 316695
Last edited: