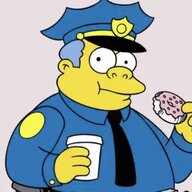 First Name

Alex
Joined

Jul 1, 2020
Threads
Messages
Reaction score

1,813
Location
Vehicle(s)

2019 JL, 2016 Jeep Grand Cherokee Altitude Ecodiesel, 2005 Mustang GT, 2018 Ford Raptor, 2018 BMW R1200GSA, 2020 Honda Monkeybikes (2), 1972 Honda CT-70, 1980 Honda CT-70,
Occupation

Saving the world :-)
i dont know about your state but in CA theyre marked an endangered species so you cant touch them, even though theyre abundant and reproducing like feral hogs
Oregon, always the first to amplify and embrace a stupid idea, has implemented its solution!
All
criminals are considered victims and merit special protections. To help them we have increased all "services" (free food, meds, shelter, legal assistance, medical and dental care, and education support.) Then we decriminalized all drugs! Wooohooo! (Are we thinkers or what?) Now previously-criminal drugs are abundant, cheap, and available everywhere in the state, so we're importing a stampede of every other state's crackheads. (I'm surprised there are any left in California…. seems like they've all moved here. ) Meanwhile, our local crackheads are also reproducing like feral hogs on meth, viagra, and steroids, but….wait for it… since drug possession and use are no longer "criminal", the "crime rate"* is WAY down! See? Problem solved!

(* unless you count burglary, car theft, aggravated assault, rape, sex abuse, homicide, robbery, kidnapping, aggravated theft, sodomy, and gun crimes… but
DRUG
crime is WAY down!).
On the deer front, I've whacked a few. I think they are suicidal. They wait until the last moment, then leap into your path (or your jeep —it's hard to time the leap properly to hit the side of a jeep at 50+ mph.). If you want a real butt-pucker, google "motorcycle deer strikes" and watch the videos. A friend of mine hit a deer at over 100 mph about twenty years ago. His sport-bike exploded the deer and he was knocked out. He had a bad concussion, some scrapes, and a sprained wrist but, miraculously, was otherwise uninjured. He was life-flighted to a trauma facility because he was unconscious and covered in blood and guts. The medics assumed it was much worse...
Last edited: