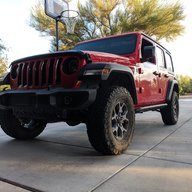 First Name

Jerel
Joined

Jun 17, 2018
Messages
Reaction score

642
Location
Vehicle(s)

2018 JLU Sport S
Vehicle Showcase
No, I wouldn't actually. I have no chips and no cracks on my windshield yet. My trick? Don't tailgate and don't speed. Like my TJ before it, my JL will throw rocks all over itself with the factory falken wildpeaks, including throwing rocks onto the hood and the roof. The reports of "it just cracked for no reason" I suspect there was either already a chip and heat/cold caused the crack or they took a rock off of their own tire. While you can't prevent all impacts to your windshield simply not tailgating and slowing down on gravel roads does a tremendous amount to help. If you don't want to do either of those things, lower the windshield.

There is a chance that a batch of bad glass made it into some vehicles, it happens (sunroofs go off with a bang from time to time as they heat up) but it's not something I have any concerns about. If mine breaks, I'll put a new on in. It's a windshield, it's basically a wear item.
Hm, I never tailgate or speed but I have 4 chips/stars in under 12k miles and 10 months on the road. I repaired all of them before they cracked. All just happened with someone passing me or a very long shot from the semi I was following (2 seconds or more following distance) on a highway or freeway. I'm getting to where I won't get within a quarter mile of anyone on the freeway if I can help it.
First one was from a cop pulling out of a freeway median right in front of me to go chase a speeder.
I'd call a windshield per year a problem, not a normal wear item.