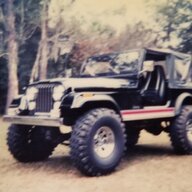 First Name

Darrell
Joined

Sep 16, 2018
Messages
Reaction score

265
Location
Vehicle(s)

2020 Jlr 2017 ram
Occupation

Logging Contractor
I put larger 285/75R17 Cooper ATP's on my JLUS (original tires were 245/75r17). They are E rated, and I read that anything below 45psi could be detrimental to the sidewall? Discount Tire filled them to about 43-45 when I picked it up. So I've been running 45 since.

Does anyone have any experience with this? Do you always follow the pressure stated in the doorsill regardless of tire size. In my case, the original Michelin 32" tires need 36psi... so would these new Cooper 33" tires also be okay with 36psi even though they're E rated? Maybe the chalk test is best method to insure your tires are inflated properly for the load.

I mainly drive on the highway, and noticed that it's drifting to the right more since I got these tires... just wondering if it's a tire pressure issue.
It could be a radial pull, some tires just do this. Nothing much can be done about it . You may try running 5 psi more air in side its pulling to.
I run 28 psi in 35s, rides good wears good. Tracks straight.