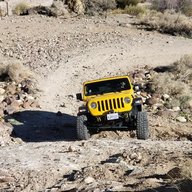 First Name

Jim
Joined

Mar 29, 2019
Messages
Reaction score

12,946
Location
Vehicle(s)

'19 JLU
I am trying to help the OP. Did you just try to tell me that you can prove my experiences helping fix other peoples rigs and what the root cause of the failures were couldn't have happened? Because that would be pretty asinine for you to claim you know more about what I've experienced than I do.
By trying to discredit me and dismiss things I have seen multiple times, you are potentially hurting the OP by saying don't check any of that stuff, it can't be that.

Your advice was:

ARB twin has a thermal shut off if it gets hot enough, but that does not blow the fuses. OP has fuses blowing when he flips the switch on.
Undersized wiring could be an issue if the OP didn't use ARBs wiring harness, but in the engine bay their supplied wiring harness is long enough to not need extending.
Not taking the bait dude, it's blatantly obvious by the way you keep putting words into my mouth that you are just looking for a fight. I never said it couldn't be a short, I said I don't think it is a short based on the behavior of his system. You also conveniently ignore the OP when he says,
I've inspected the wiring, verified the ground and with no fix.
And no, I don't give one fuck about your anecdotal shade tree mechanic experiences. It is very obvious to me that if you don't understand how fuses can blow without the pumps hitting thermal cutoff, your grasp of circuits, wire selection based on ampacity, fuse operation, thermal loading, and the effects of heat on all of the above is weak, at best. Now, I will walk away from this argument for a third time, like I have tried to twice before. I have no doubt you will have something to say, you just seem like that kind of person. It's ok I've been there and actually been that guy, I made a conscious decision not to argue with people on the internet just to be "right" a while back and as hard as it is I am going to try and stick to it, so any reply will not be further engaged, but it might help your ego.
@Go4Low
if you want an understanding of how your 40A fuses are really 30A fuses at room temperature (77F) and just continue to go down from there in rating as ambient temps increase under your hood, and how the effective AWG of your wiring is also reduced while the amperage draw of the compressor rises during high heat and loading, just hit me up. Not saying this
is
your problem, just saying this
could
be your problem.