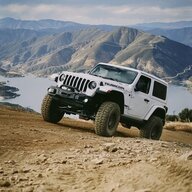 First Name

Jesse
Joined

Aug 23, 2019
Messages
Reaction score

827
Location
Vehicle(s)

2019 Bright White 2dr JL Rubicon 3.6
I just drove up to the staging area for Drinkwater Flats. The gate across San Francisquito leading to Drinkwater is, as of 10pm tonight, open. Have fun!
Couldn't resist making a solo run to Drinkwater today - ended up running the whole thing, then hopping on House trail over to Del Sur ridge and riding that over to Deer Peak Junction (I think it was called?). Then took the descending route towards Bouquet Canyon Road before deciding to turn around and make the run all the way back the way I came. So much to explore out there I'll def be back. Ran into a 2 door XJ and a Tundra but otherwise not a soul in sight. Thanks again for checking out the gate the other day - wheeling this trail has been on my mind since.
Got lots of photos - although none of the truly steep and rutted parts as I was busy navigating them. A nice leisurely trail all in all with a few challenges and pucker moments to keep you on your feet.
View attachment 309879
Last edited: