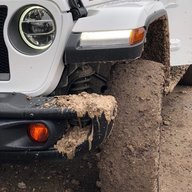 First Name

David
Joined

Jan 29, 2019
Messages
Reaction score

3,426
Location
Vehicle(s)

2020 JLUR 3.6L
I think it's more likely that they just used the stickers that they had.

There is a federal law that says a dealer can't sell a used car until it has a buyers guide attached. It's just that piece of paper you see stuck to the window of used cars that tells you what warranty it comes with, to get is inspected and stuff like that. Kind of the equivalent of a window sticker on a new car.

When a dealership takes in a trade or buys a car from auction, they cannot be sold on the lot until the buyers guide is attached. So some dealers will put those stickers on them to make sure nobody tries to sell them until they comply with the law. Pretty much all of the dealers around me keep those cars off the lot until they're ready to be sold, so you don't see stickers like that very often in the real world.

But if these dealerships had those stickers laying around, I could see them just tossing them on the Jeeps affected instead of getting or printing new stickers.
Good points. Thank you