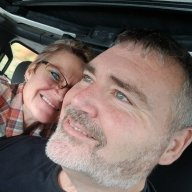 First Name

Ted
Joined

Aug 3, 2018
Messages
Reaction score

14,650
Location
Vehicle(s)

JL Unlimited Rubicon
Occupation

Retired from Corrections....I have stories.
So I spend time looking for cool places to camp. I use Gaia and look specifically for trails that end at a river, or a lake. I look for places that are accessible by only one trail. and dead end at said lake or river. So I was following the coast of Lake Michigan in the Upper Peninsula of Michigan and found a spot that I though warranted driving for 6+ hours to get to. We were going to go to Drummond Island, with a group of our friends. 4 of them came down with covid, (they are all good now and are over it. two were un-vaccinated, two were vaccinated) Another couple had the front axle seals go out in there JKUR so they and their two friends were out. With our group down from 12 people to 4 people and only two Jeeps, it was the perfect time to go look for that spot. So last week on Wednesday we loaded up and took off.
There was an added bonus. My bud Bill that if you follow any of my other Jeep traveling post you will know as the driver of the Punk'N JLUR brought his girlfriend with him..... I know it doesn't sound like a big deal, but I have known Bill for almost 30 years, He was divorced about 15 years ago and while he has had some fuck buddies, and girls that he would hang out with, this is the first time we have ever met one of the girls and this is the first one that he has ever called a girlfriend.
SO we left the Lansing area and headed north. We stopped off at a small lake up by Grayling for the first night of camping as we got a late start. Wanted to have time to enjoy the camping and cook a good meal.
Get there just in time to catch sun set through the trees.
In the morning we are greeted by some fog over the lake and it made for a pleasant morning.
Off we go to the UP of Michigan crossing the Mighty Mac
We stop along the trail for lunch on the hood of JLUR. Is there a better way to have lunch then on the hood of JLUR along side a trail while in the shade about 40 yards from the shore of Lake Michigan?
So we start scoping out scoping out some of the places that I though looked like a great place to camp. My first choice was open, It is about 10 miles by trail off the main road. Back in the woods of the UP with no one around..... No one.
This is our first look at it.
Yes that is the shore of Lake Michigan in the background. We are right on the lake just in the woods and out of the wind. There are zero bugs. Winning we are.
The water is beautiful and there are rocks sticking out of the water. Note the T-shirt says it all.
I think it was a trap.
Set up camp and start cooking. The dinner meal is shredded beef and shrimp tacos with cheese, onion and mushrooms topped with Chipotle sauce.
My wife baked, yes baked a pineapple upside down cake at camp. The smell was incredible, as I slide my Glock onto my waist. There is a lot of bear and cougar activity in the area.
It was incredible and even more so as it was baked while we were camping on the shore of Lake Michigan. This is living. We were all excited to try it and it was amazing. It was a wonder that I was able to get a picture before they cut into it.
After dinner, I flew the drone and we took a walk on the beach to burn off some of the calories from dinner. It was so nice to finally meet Bill's official girlfriend. She fit in well, she loves drag racing, Jeeping (she owns a 2019 white JLUR) and loves to camp plus she is low drama. So big win for all of us.
We watched the moon come up through the trees.
Then stepped out to watch the moon rise over the lake.
The next morning we headed out to run trails for about 6 hours.
Found another cool camping spot on a inland lake. It was big enough to fit abut 10 to 15 campers on the site. Had a nice fire ring, good view of the lake and a rock to flex on.
The trails were easy for the most part, just trails through the woods. There was some mud here and there, but mainly just a relaxing trail run with good sights along the Lake and in the woods.
This would be another sweet camp site next to an inland lake too.
A few more drone shots from our main camp spot.
You can see the camp spot with the Jeeps at the bottom of the pic and the shore of Lake Michigan at the top of the pic.
We walked out on the sand bar. It is nice not having to worry about sharks and having fresh water.
As the light faded behind the trees.
Up early and caught these shots.
After sunrise, we hiked about 2 miles north on the beach to the mouth of a river that spilled into Lake Michigan. We were told that it was common to eagles catching fish there in the morning.
Sadly there were no eagles, but we saw many signs of bear and cougars.
apparently bears also shit on the beach. This is about 100 yards from our camp.
We did head out and do run some trails at night.
The moon on Friday
night was bright coming through the trees.
Saturday we broke camp and headed back to the lower peninsula to one of my other favorite camp spots.
I was up early, cut some more wood, built a fire before the rest of the crew got up. Of course I put coffee on even before you ask. Duh...
She looks innocent and sweet, but she will full send your Jeep and twist axle shaft, jump the Jeep, get it suck in the mud and dam near flip it over backwards. I would suggest you NOT let her drive your Jeep. She drives mine and it cost me and it makes me have to wash it often. Just saying.
Breakfast at camp, we are roughing if. Eggs, cheese, bacon, sausage, sour cream, tomatoes and onions with flat bread, or a croissant. Then of course my wife baked up some raspberry type breakfast pastry.
Then back to reality Sunday as we packed up and headed home. We were home just long enough to drop the camper and then meet up with our local Jeep peeps for some ice cream.
It was a nice way to end 5 days of camping.