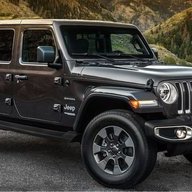 First Name

Michael
Joined

Jul 28, 2018
Messages
Reaction score

63
Location
Vehicle(s)

Formerly JK-U, JL-U awaiting production
Well, I had ordered a JL-U Sahara Sky Roof and had so many problems with mfg delays, MF increases, residual drops, etc that I canceled my order and went in another direction for my DD.
Now, I am looking for a play car- and rather than going my usual play car route (small convertible), I thing I can scratch my Jeep itch and still get open motoring with a manual transmission this way (and have a good 2nd winter car to boot!).
I realize that I am bargain shopping but there are a couple out there in this range but thought I'd reach out here to see if anything else was out there.
Looking for a JL Sport S (would take a Rubi but not expecting to find one close to my price point!). Open to what other options it has (but strong preference for the upgraded Uconnect at a minimum).
Looking in the $25-28K range. Must be in great condition. Mileage less of an issue as it won't be driven a lot on this end.
I have found a very well two so far- one white with black with Ocean Blue with Heritage tan. Both MSRP's in the $34,000-36,000 range.
Anyone know of others? MUST be manual transmission and must be 'S or better'
Thanks