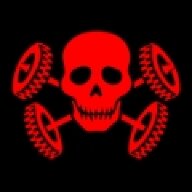 Joined

May 6, 2021
Messages
Reaction score

1,994
Location
Website
Vehicle(s)

2021 Wrangler, 1987 Comanche, 1997 F250
Build Thread
Occupation

enginerd
The HMMV also used a 242AMG, but it was built differently and MUCH stronger than the XJ 242. My guess is the new full-time system is not built as was the old XJ 242, but something stronger. My comments were really about the utility of the full-time setting, which I used regularly in my XJ.
Yeah, there are several different grades of NP242 transfer cases.
And I guarantee that the current "auto 4WD" case that comes in the JL is entirely different. The 242 had no limited slip or provision for any kind of electronic clutch. It really is an open differential inside the case when you're in full time 4 hi. If you have one tire on wet ice or mud and open differentials in the axles, it's the only tire that will spin when in full time. Though with a TrueTrac front and rear, the full time 4hi mode in the XJ is really great in all weather driving. I recently sold my XJ that was set up like that. Along with good tires, it was just about unstoppable in any snow less than a foot deep.
It will be interesting to see how the JLU does in snow this coming winter. I put the same kind of tires on it but I don't have limited slip or full time 4 hi. I just have the Rubicon lockers and part time 4 hi.
Still, I think I'll manage just fine.