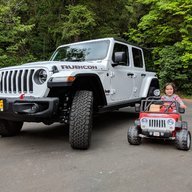 First Name

Adam
Joined

Feb 28, 2018
Messages
Reaction score

65
Location
Vehicle(s)

2018 JLUR, 2016 Kia Sedona, 2007 Toyota Prius
I finally got my Jeep today!

I have a steep paved driveway and have to traverse some pretty steep hills to get around my neighborhood.

I've read a lot of threads here but none have mentioned how the transmission seems to be programmed to behave on downhill stretches with your foot off the gas. It is really resistant to upshifting and does a great job of not letting the car accelerate as if rolling with no engine resistance. If you press the gas pedal a bit it starts acting more like I'm used to with automatics, and lets gravity do its thing.

Am I crazy in thinking the JL behaves differently than most autos in this respect? I really like it - it's like a minor version of hill descent control but without applying the brakes. Most autos I've driven will engine brake, but they are programmed to always be in as high a gear as possible for a given speed when you take your foot off the gas and coast. The JL seems to not do that when it's pointed downhill.