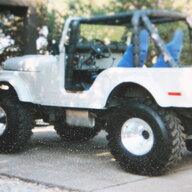 First Name

Brad
Joined

Oct 8, 2018
Messages
Reaction score

4,218
Location
Vehicle(s)

2019 Jeep JL Sport S, 03 Toyota 4Runner, Infiniti G37, Toyota T100 (Retired 74 CJ-5, 80 CJ-7)
First off, big shout-out to Rhinebeck01 & American Jeeper for their help & tips!
This DIY setup will allow you to run full time DRLs w/ active turn signal switchbacks on your headlights/fenders on a JL Sport. This will allow you to use your auto-headlight function full time, so no need to switch your parking light on & off to activate DRLs.
I used (and HIGHLY recommend) Oracle Led Fender Switchbacks (thanks American Jeeper!), these can be found at Oracles site or a bit cheaper from Vividracing.com or horsepowerfreaks.com These switchbacks have CANBUS circuitry built in and WILL NOT hyperflash or show a bulb-out display. They are plenty bright in the white and even brighter for the amber turn light.
https://www.oraclelights.com/produc...switchback-high-output-can-bus-led-bulbs-pair
If you want to gamble on cheaper ebay bulbs be sure they are 7443 CK bulbs, they must have the CK socket, regular 7443 bulbs are the wrong polarity. And all that I've seen will require an extra resistor wired in so you won't hyperflash. By the time you add that cost into it you're spending as much as the Oracles for an inferior product, so just a heads-up on that!
NO FENDER REMOVAL NEEDED, just remove the one plug clip on the front inner fender and the 10mm bolt further back in the fender liner. A counter clockwise turn to remove bulb socket and PRESTO!
I have the Sii Turbo split-halo LED headlights w/ SUP-light adapter mounts. The mounts come w/ the JL to JK wiring harness adapter and the lights come w/ the 3 pin adapter and the CANBUS anti-flicker adapter. Luckily there's plenty of room behind the lights because you MUST use all three adapter harnesses.
https://www.amazon.com/dp/B0781MXXXD
https://www.amazon.com/gp/product/B07KS7769Q
You must source a 12v fuse that's not being used, fuse #57 is a common choice, this is for heated seats, so if you do have heated seats you'll have to find another place to tap
or be sure that both fuses are in the tap socket
.
Micro Fuse tap, comes with two taps and 4 fuses, nice set.
https://www.amazon.com/gp/product/B01LFXA5YQ
You will use this 12v source to run into your DRL wire on your headlights (you will run wire down passenger side, tap to passenger DRL, run behind grill in front upper radiator area over to drivers side DRL) and splice off that wire to the white/brown wire on each fender bulb. You will cut the white/brown wire about 2" from the fender bulb socket (put a dead splice on the end going back to the fuse box) and butt splice into that wire.
For your turn signal you will use a T-Tap (best to keep it easy & waterproof) into the White/Green wire, again, about 2" up from bulb socket, you WILL NOT cut this wire, just tap into it. This will go to your Amber halo wire for turn signal switchback function on your headlight halo, mine was a yellow wire from headlight harness (if equipped)
You can run both wires from the fender into the engine bay through that hole in the fender liner, just shine a flashlight through that hole and you'll see how it can thread through. I taped the wires to the end of a long screwdriver and pushed it through that hole to route them through. You then push the wires through the fender liner so you can reach up behind the liner and get them back down to where the socket is. Hope that makes sense
I didn't do it since the DRLs are dominated by the headlights, so leaving them on all the time is no biggie, but if you want to be able to switch your DRLs off you can add one of these switches between the fuse tap & your DRLs and mount it in an area below your steering wheel in that extra room on one of the plastic panels.
https://www.amazon.com/gp/product/B007B86Z94
And the final video, going from Ignition ON w/ auto-light function (Engine running OR not running), then turn signals, then flashers, then auto-light off but headlights on, then wipers just because I was grasping for anything at that point, lol. Any questions just post up here.
Last edited: