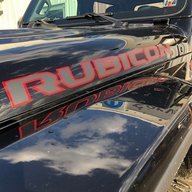 First Name

Craig
Joined

Feb 11, 2019
Messages
Reaction score

513
Location
Vehicle(s)

2-Door JL Rubicon - Black
Occupation

Retired Air Force - Currently in my Dream Job
Searched around and didn't see anything that focused on the basic's of Recovery and Winching .. Lets call this a live thread and make changes and add info as needed
When attempting a recovery or winching someone else's POS or very expensive JEEP, keep in mind you really need to know what your doing.. "It's not just Hook it up and pull it out". Safety of the persons and equipment must be considered.. don't be that guy/gal that has an Ooop's moment and does some serious damage or death.. Yeah death is always a possibility if you are doing it wrong.
Let us start with a quick equipment review ..
Recovery Straps
(General Info) Straps come in several types and have specific uses - Ensure you are using a strap that is rated for what you are trying to accomplish
Tree Strap - Used to wrap around a tree and attach with a shackle
Tow Strap - Used to pull out or tow a vehicle with
Snatch Strap / catapult / Kentic Energy- used for pulling out of sand or other loose surfaces with both vehicles in motion
Shackles -
(General info) Shackles come in various sizes shapes and strengths - Most common off road shackle is the "D"Ring Shackle - Ensure you are using one with the strength to do job safely.
These came out a few years back and work just great and are easier to use -
Winches -
(General Info) Several types and costs - General rule is to have one that will safely recovery 1.5 times the amount of weight your are pulling (see mechanical advantage to increase pulling strength)
Snatch Block -
(General Info) They are called snatch blocks because they are often used in conjunction with a winch in a recovery application, and can improve the functionality of a winch by increasing its pull power. It also allows you to change the direction of your winch's cable when the anchor point is offset.
Mechanical Advantage

Definition:
me·chan·i·cal ad·van·tage
[mechanical advantage]
NOUN
the ratio of the force produced by a machine to the force applied to it, used in assessing the performance of a machine.
2. Mechanical advantage is a measure of the force amplification achieved by using a tool, mechanical device or machine system. Ideally, the device preserves the input power and simply trades off forces against movement to obtain a desired amplification in the output force. The model for this is the law of the lever.
this is where it gets fun !!!
When Winching or doing you own recovery, always use a weighted line blanket or a hoodie with rocks in the pocket if need be.. If a equipment failure happens you want the line to hit the ground - not anything else..
Always stand clear to the sides and never between the recovering and recovered vehicle !!!!!!
Here are a few more basics to remember that I remember off the top of my head from a recovery course.

1) Only the hook end of the winch line should be moving. Never hook up the winch and drive backwards. Use kinetic recovery strap to frame mounted tow points for that.
2) When winching someone else, put your transmission in neutral and your foot on the brake, the other vehicle should be in D or R to assist the winch pull.
3) Always keep tension on the line whenever it's being powered in or out of the winch drum.
4) Always wear gloves, stay more than an arm's length from the fairlead, and never let the rope slide through your hand-use a hand-over-hand motion to control the rope.
5) Don't use too little winch rope. Your winch operates more effectively when you are not concentrating all of the use on the same first twenty feet of rope. Use a pulley block whenever the distance you are from the anchor point is 40 percent of the length of your winch line or less to increase your pulling power by using the lower layers on the drum.
6) Never hook onto a tow ball.
7) Keep at least 5 wraps of line on the drum (8 if using synthetic rope)
8) Always drape a blanket (parachute) over the cable.
9) If using a winch hook, connect it with the open side up.
10) Never wrap the line around an anchor point and then connect the hook back to the cable.
11. AVOID - doing a pull recovery in reverse … The reverse gear is the weakest gear in the transmission, if it all possible turn your jeep around and pull
​
I hope this helps with some basic info .. if anyone has anything to add.. post it up and I will add it to the original post .. here's to many safe recoveries if needed
Last edited: