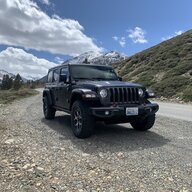 First Name

Mike
Joined

Dec 23, 2019
Messages
Reaction score

64
Location
Vehicle(s)

2021 Jeep Rubicon JLU in Granite Crystal Metallic
Both highway and city driving, i would say like 60% highway. I'm hoping it will get better as I put more miles on it. I have under 3000 miles right now.
Another factor in lower MPGs from Oct-April is many areas are still using a 'winter' gas blend. I don't know the specifics but from aaa.com, the difference between summer- and winter-blend gasoline involves the Reid Vapor Pressure (RVP) of the fuel. RVP is a measure of how easily the fuel evaporates at a given temperature. The more volatile a gasoline (higher RVP), the easier it evaporates.
Winter-blend fuel has a higher RVP because the fuel must be able to evaporate at low temperatures for the engine to operate properly, especially when the engine is cold. If the RVP is too low on a frigid day, the vehicle will be hard to start and once started, will run rough. I have seen on other vehicles (that I've owned), a 1-2 mpg improvement with summer vs winter gas, including on my 2013 Jeep Wrangler JK.
I'm curious to what my Willy's will be in terms of mpgs once we switch to summer gas in the Seattle area.