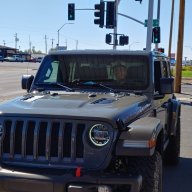 First Name

Ray
Joined

Oct 20, 2020
Messages
Reaction score

8
Location
Vehicle(s)

2020 JLUR, 2018 BMW M2, 2013 FIAT 500E, 1998 TOYOTA 4RUNNER
I wouldn't mind going to the DMV myself, but it seems difficult, if not impossible with Covid. It's pretty much impossible to make an appointment and I'm not sure if you can just walk in. Did you pay sales tax with a credit card by chance? One thing about the private DMV is the credit card charge is pretty outrageous.
I did a walk in with my contract from the purchase. I paid the sales tax by check, but you can pay by credit card. There was a 1 or 2% charge to do this. I screwed up and didn't use my credit card which gives me 3% cash back...I blame my mask for depriving my brain of oxygen.
One issue is dealing with FCA. California gives you a 30 day temp license to put on the windshield once you pay the sales tax (and you have to pay this I think within 10 days of bringing the vehicle into the state). So this starts the clock ticking. The problem is it takes FCA 3 to 4 weeks to get the paper title to the local DMV. My AZ temp paper plate on the Jeep says registered through Jan 2021, so it looks like I am semi-legal even though my temp CA license in the windshield says 11/26. This is the only part that is kind of a hassle...