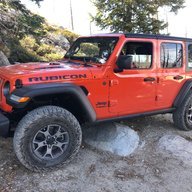 First Name

Eric
Joined

Nov 2, 2018
Messages
Reaction score

9,966
Location
Vehicle(s)

2018 Punk'n JLUR; 2020 Silverado Trail Boss
Vehicle Showcase
Not sure why I felt compelled to read through this entire thread. Glutton for punishment perhaps. But I digress...

Over the years I've done a fair amount of driving off pavement. My first Frontier (one of the first Crew Cabs with "4x4 Off Road pkg) got me mixed in with an Xterra group with regular group rides. Way fun and learned lots. Since then I've owned 2 X's and 2 other Frontiers. Most of my wheeling now is done alone with my wife and hounds. We like getting away from the crowds and enjoying nature. More than once we've exceeded our previous vehicles capabilities (in spite of their off-road packages with locking diffs and such) ... or more likely ran out of good sense (whatever). We got the Rubicon because it will help get us out what we shouldn't have got into. And when your'e alone it never hurts to have more capability than you think you'll need. Yes, it will spend 90% of it's life on pavement... but it's that 10% that makes it ALL worth it.

Why the Rubicon instead of a Sport to build up? As other's have said: warranty. I need this to get me to and from work every day. At this price I want to keep it a LOOONG long time. The Lifetime Warranty is a really nice thing to have! Plus at this stage of my life I prefer to spend my time out there having fun instead of under my vehicle. Instant gratification is all the rage now isn't it?

Besides. I've always wanted a Rubicon since I first saw one. And now we could afford it. So there!