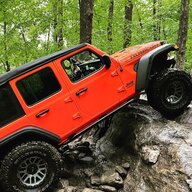 First Name

Scott
Joined

Jun 12, 2018
Messages
Reaction score

402
Location
Vehicle(s)

2019 JLUR in Punk'n Orange
That would be a bad business decision on the part of FCA. Typically, a company will want to have a high end product to sell to more affluent customers. It is important to distinguish between the base product and the high end product.

Give the Rubicon additional features. Make it be a more prestigious product. Make it appeal to more affluent customers. Make better margins on it.

If you make the high end product too similar to the base product, customers will not pay a premium for it. That is just business 101.
Exactly. How many people in this thread already said they wanted the Rubicon because it was the top trim, and some of them weren't even 100% sure the difference? Take that and multiply 10-100 fold, and that's probably a better indicator of all Jeep/ Rubicon buyers, Some of us know, some are and always will be blissfully ignorant.
not really. jeep could offer custom build with just the specific rubicon parts like d44s, etc. back in the tj model, you can order a sport and specifically order parts without requiring to order a option you dont want. jeep will do well if they offered this and i'm sure members on here would go that route vs buying a rubicon with the extra options you dont want in the first place.
Bit of a different spin, but My response from
this thread
applies:
The group of people asking for a V8 and D60's under a Wrangler from the factory and the group of people who probably wouldn't bother utilizing them properly seems to be the same group., They're also the people who would likely complain when it's got a price tag of $80-100k. Dealers mod out Wranglers all the time and tack another $10-15k onto the price tag, and they'll always get someone who will pay it. That removes the liability from FCA and puts it on the dealer.

And if anyone has any questions as to "why hasn't Jeep done ______, it would sell like crazy":

1).

No, it probably wouldn't. Keep in mind We are the Lunatic Fringe: a minority of owners

who heavily mod their vehicles to do crazy stuff. We are prevalent across all enthusiast vehicle communities,

however, we are still a minority.

2). Anyone who wants a good look at how "entusiast" packages like the Rubicon get developed, packaged, and sold to the rest of the company for it to be greenlit for production should really go read Jp Mag/ Four Wheeler's feature:

The Jeep Wrangler Rubicon Story - Nearly Cancelled
Wrangler Rubicon: The Jeep that Shouldn't Have Made it Through the System
(Bolded here for emphasis. Also: Read the story if you want to understand)
EDIT: Also- you can always factory order and get exactly what you want. That is exactly what I did and why I did it, especially with the discount program some dealers are running.