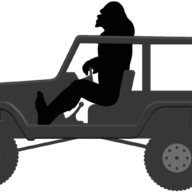 First Name

Robert
Joined

Apr 4, 2018
Messages
Reaction score

1,777
Location
Website
Vehicle(s)

2013 F-150 Ecoboost 2018 2-door Rubicon 2013 Range Rover Evoque
Occupation

CAD Drafter/Engineer
Vehicle Showcase
Why did I buy a Jeep Wrangler?
For a few obvious reasons and a not so obvious reason.
Obviously it is such a cool versatile vehicle. Great off-roading and winter driving. Great convertible in the summer time and fun to drive even in town. It also gets decent gas mileage for a box on wheels.
Not so obvious reason. It was on my bucket list. To order a brand new vehicle from the factory exactly the way I wanted it. The Jeep Wrangler was it because of the obvious reasons listed above.
Why the bucket list? Of course most of my friends here know the reason. For those that don't, I was Diagnosed with Hodgkin's Lymphoma in 2010, in remission since 2011.
Why did I choose Mojito (green)? Lime green is the Cancer Ribbon color for Lymphoma. So with the Jeep on my bucket list and green color it just fits.
FUHL license plate and user name. This plate has been on a few vehicles and on the Jeep it makes the most sense. What does FUHL mean? It is kind of an acronym, the H L stands for Hodgkin's Lymphoma. My clever wife came up with that.
The reason for this post. In 2012 my Wife wanted to find someway to help those still fighting. She discovered "The Big Climb" fund raiser. The best part is some of the funds go directly to patients. It helps with hotel rooms for family members, transport to treatments, etc. This will be our 7th year and we have raised almost $10,000.
If you would like to donate on our behalf please clink the links below.
Admins, if not ok, I can delete the links.
Team FUHL.
https://www.llswa.org/site/TR?fr_id=1650&pg=entry
My page.
https://www.llswa.org/site/TR/LLSWA/llswaBC?px=1876595&pg=personal&fr_id=1650
Last edited: