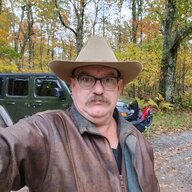 First Name

Michael
Joined

Apr 20, 2021
Messages
Reaction score

1,470
Location
Vehicle(s)

2021 JLU Willys in Sarge Green
Occupation

truck driver
When I got the Jeep, I folded the back seats down, and marveled at how easy it was, how well it worked, and how I basically had the same cargo area as a short bed pickup. That helped cement the idea that I should just sell my truck.

That was the last time I actually folded the seats down. If I'm not going back and forth to work, I usually have the dog in the back seat, in her doggy fur catcher tunnel. Folding the seats down requires removing her dog bowl and my wastebasket from the floor, and anything I had stored under the seat.

I realized all the latter stuff while I was contemplating sticking my Viar OBA setup under the rear seats. There aren't a lot of good places to stick this stuff. Lots of potential solutions involve shelling out for this skid plate or that one. I could end up running hoses and wires everywhere. I could spend weeks working the bugs out of a complicated installation.

While it sort of defeats the point of having separate components, under the rear seats is actually a really tasty mounting location. There is plenty of room. I could probably rig it up to be semi-permanent, so I can pull the unit out if I really need to fold the seats.

I've started wondering if it's even worth bothering. Will I ever actually need to fold the seats down? Thus I thought I would survey the membership and see what eventualities I might not have foreseen. Maybe I will fold the rear seats down more often than I think.