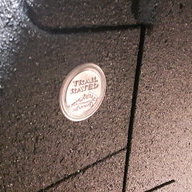 First Name

John
Joined

Apr 5, 2020
Messages
Reaction score

826
Location
Website
Vehicle(s)

2020 Jeep Wrangler Rubicon 2-door
Apologies if this is a repeat of something else somewhere, but I tried the search and saw nothing that answers my question. I purchased my 2-door a year ago and, while I was ready for the dual top option, I was told it was not available on the 2-door models (for the simple reason that FCA had no way of stuffing the soft top into the vehicle for shipping). Fast forward a year to now, and I am wondering which of the two most common soft-tops on the market have the easies access to the rear cargo area while the top is up. I've had quite a number of jeeps over the years, all with both tops (hard and soft) and all of the soft tops had the ability to pull the zippers up and flip the window up on the roof, giving clear access to the cargo area. All these were factory soft-tops. My son bought a 2017 JK and the dealer sold him the less expensive Bestop (fastback look) soft top. For one, this thing is a b#tch to close up when it's cold, and for two, you pretty much have to take the rear window right off in order to have access. All fine when you are going topless, but let's say it's raining and you want to put something in the back, then close it up quickly?

Yeah, I get that Bestop rigs are cheaper, and they don't look half bad, and in another story some day i can explain how I got some of the best customer service from them a person could expect... but I am going to purchase a soft top and I want one that will let me open up the back and close it handily.

comments? recommendations? experiences?