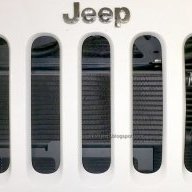 Joined

Sep 1, 2016
Messages
Reaction score

178
Location
Website
Vehicle(s)

MY2014 JKU Overland (RHD) A/T, Mercedes E-class MY2017
Which currently known features, design decisions would you rather not see in the new JL/JLU?

Here's my main list...

1. Vents, vents and more vents. Glad that the Sahara/Overland doesn't have the hood vents but those mandatory side vents just look wrong. I like my Wrangler to look like the original Jeep it's meant to copy. They could have kept the vents inconspicuous without making the JL look like the sports car that it's not. And on that last note...

2. No news of a high performance/SRT option. It's a given that the next Land Rover Defender and Mercedes G-class both will have high performance versions and the new models will come to the market at the same time as the JL. Are we to rely on aftermarket superchargers to keep up? The high performance G class will always be a rare sight in the trails but the next Defender definitely will be there in the US trails after it gets airbags (it already is a player in the RHD markets in its current form) and I bet it'll be a common thing to hear Jeepers talking about how good the supercharged V8 in the LRs sound.

3. The auto sliding soft top should have been an auto convertible top like how several aftermarket companies have done.

4. Weight reduction isn't enough. JLU Rubicon is only 3% lighter than the JKU Rubicon. The 4 door Sport and Sahara are only 6% lighter. The next G class is rumored to have lost 15%. The Defender has always been a bit lighter and the next one might be even lighter, judging by the >15% weight loss in the new LR Discovery.

5. Likely no rear airbags in the JLU but I like to be proven wrong.

After all the nail-biting and the waiting, I'm starting to wonder what I've been waiting for because the JK to JL transition seems mostly like the 2011 to mid-life refresh 2012 model with the better engine, transmission and interior.

What do you not like about the new JL?