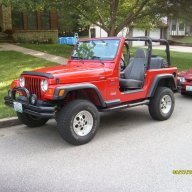 First Name

Dave
Joined

Mar 5, 2021
Messages
Reaction score

458
Location
Vehicle(s)

'97 TJ '97-'11. '21 billet silver JLR
Apologies if this has been done before (I'm new)...
Obviously, modernization dictates that the current Wrangler offers the most safety, driveability, technology, etc. But, does that necessarily make it the best by Jeep standards?
YJ was the first Wrangler. 'Nuff said.
TJ was the modernized version. Rubicon is born.
JK was the best selling, due to the birth of the Unlimited.
JL is the modernized version. Options now include diesel! xe! 392!
I don't have my JL, yet, but I love everything I see so far. That same feeling is what sold me on the TJ when I ordered my '97 TJ sport, 4.0 manual. I
loved
that Jeep, and still kick myself for thinking it was time to move up to a pickup after 14 years. I knew I would get another Jeep at some point, but figured it would be an old, beater Jeep (more on that, later). We are not yet retired, but have already bought and moved full-time into our retirement home on the water at Lake of the Ozarks. My wife knows I want another Jeep, but her car is DOA and she is due for a new one. Rather than get a compact luxury car as she thought she wanted, she shocked me when she said I could buy my Jeep if it had the tech and
some
of the amenities she desired (she acknowledged her car would have no allure, while the Jeep comes with off-road play options, community, etc). Well, the JL is perfect, and used Jeep prices are currently ridiculous, anyway. So, we have a 2-door manual Rubicon ordered. And I am stoked.
But, I still love that TJ. I love the look, the size, the marvelous 4.0 straight 6...when I see one today I still eye it with much fondness and love. Obviously my previous ownership makes be biased. I have seen some YouTubers claim the YJ is the one true Jeepers should be buying right now, but I still just can't help but to think way down the road, the TJ will be the crown jewel in the Jeep line. It was still a smallish Jeep, which we will probably never see again.
We will be hitting the trails with the JL. If we love it, but get skeered of scratching/over modifying our JL, I may even still end up with a TJ for my old, beater off-roader.
So, what say you?
Last edited: