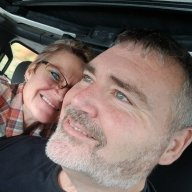 First Name

Ted
Joined

Aug 3, 2018
Messages
Reaction score

11,918
Location
Vehicle(s)

JL Unlimited Rubicon
Occupation

Retired from Corrections....I have stories.
I had kind of put off going to Rausch Creek because by principle the park pissed me off. They make you buy a one year membership for each person (driver and passengers) and it felt like it was a money grab. I was thinking that I would only be there once and was only going to grab the badge trails.
Well I was wrong. The membership came with free camping, and the people were super nice. They open up the camping even when the park is not open for wheeling which worked out great for us as we arrived on Thursday and the park is open Friday through Sunday. The park's trails were marked the best of any place I have wheeled. All intersections are labeled on the trail and they have a GPS enabled free downloadable map. The best working GPS downloadable map I have used for running a trail, the best printed map and the best marked trails that I have been on. Well worth the 20 bucks for the membership. Okay enough typing and such on to the adventure.
The normal crew was with me. My wife Carla, (I call her Kevin) Bill in the Punk'N, Phil in the Stingray, and Gary in the Ocean Blue. Also groining us in a JKUR was Steven and Lisa. Fellow JLwranglerforum member Sparky1352 also joined us for one of the days of wheeling. We had a great time together.
We met up and headed out early Thursday morning in the rain. It took us about two hours to drive out of the rain and then the weather was good for the rest of the long weekend.
.
A little foggy in the morning, but the fog eventually burned off.
Shot out through the top.
Why we Jeep....
Steven custom painted his JK. He is a true artist. The paint looks like it is a wrap, but it is not. He hand painted 1941 rivets on the Jeep. I would be scared to wheel it, but he wheeled the heck out of it.
Look in the mirror. More pics of the JK to come.
Gary did scrub the RTT on a tree. He is already thinking about switching back to a camper. He does not like the set up and tear down and repack everyday senerio.
The blue sky is starting to poke through as the fog burns off.
These two are adventure girls. They love Jeeping, mud, sleeping outside, hiking, rock crawling and just general kick ass kind of girls.