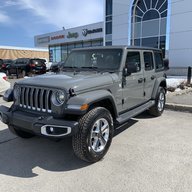 First Name

Michael
Joined

Jan 12, 2018
Messages
Reaction score

1,827
Location
Vehicle(s)

2019 Sting Gray JLUS V6
Yea for the motorcycle I buy cheap ones. Bought an expensive pair once and without neck strap attached turned to look behind me before changing lanes and WHOOOSH they flew off my face! LMAO. OK it did not help that I was doing 120 MPH at the time either.....

:cwl:
Kind of a case of « rookie mistake » and « you had it coming your way » kind of thing lol
Wiley X is what you want then. Had a set of these in Afghanistan, tactical/ballistic lenses, come with a set of temples AND a strap to secure them when needed (or ride bikes), come with different color lenses too (clear, tinted and yellow if I remember right) to adjust to activities/daylight.